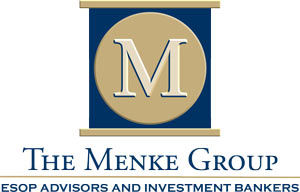 This announcement appears as a matter of record
The Menke Group is pleased to announce that the following companies joined us as new ESOP clients during the calendar year 2015.
---
Ace Fire Equipment Company, Inc.
Advanced Technology Group
Andesa Services, Inc.
Architectural Computer Services, Inc.
Avwatch, Inc.
Babsco Supply, Inc.
Baseline Engineering Corporation
Cortez Heating & Air Conditioning, Inc.
Decorative Plumbing Distributors, Inc.
F.L. Putnam Investment Management, Inc.
Florida Hydronic Solutions, Inc.
Franklin Insurance Agency, Inc.
Full Vision, Inc.
Harty Tractor Services, Inc.
Heath Ceramics, Ltd.
HMS Productions, Inc.
Hodge Engineering Company, Inc.
House & Robertson Architects, Inc.
HPGI Holdings LLC
Hyperform, Inc.
Jacobian Engineering LLC
Jenkins Diesel Power, Inc.

OriGen Biomedical, Inc.
Pacific Industrial Corp.
Pacific PavingStone, Inc.
Power Plumbing, Inc.
Pro Food Systems, Inc.
Quality Packaging & Supplies, Inc.
Quantum Controls, Inc.
River City Group, Inc.
R.J. Tide Construction Company, Inc.
SC Solutions, Inc.
Schoeneman Bros. Co.
SECCO Incorporated
Semple Brown Design, PC
Shads Advertising Company, Inc.
Soderholm & Associates, Inc.
Solarcraft Services, Inc.
Sterling Health Services, Inc.
Technical Builders, Inc.
The Colvin Group
Tucson Embedded Systems, Inc.
Wilbert Funeral Services, Inc.
One Kaiser Plaza, Suite 505, Oakland CA 94612
• Phone: (415) 362-5200 • Fax: (415) 398-2260 • www.menke.com •
---
OVER 3,000 ESOPs SINCE 1974