What is an ESOP?
Learn the basics about Employee Stock Ownership Plans:
Get quickly acquainted with important reasons why over 20,000 company owners have adopted ESOPs:
Why Should You Consider an ESOP?
Watch Our ABC's of ESOPs Web Seminar For Free Now!

This is a one-and-a-half hour live Audio/Web Seminar that covers the basics of ESOPs from A to Z. This Audio/Web Seminar is designed for company owners and financial officers who want to determine whether an ESOP might be a good fit for their company. This program is designed to provide a broad overview of the advantages and disadvantages of ESOPs, without going into the detailed technical aspects of ESOPs.
Click Here for More Information
Articles for Companies Considering an ESOP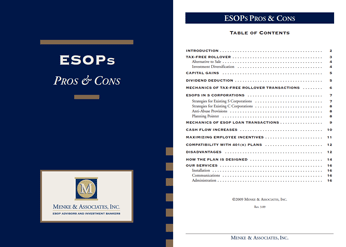 ESOP Web Seminars On-Demand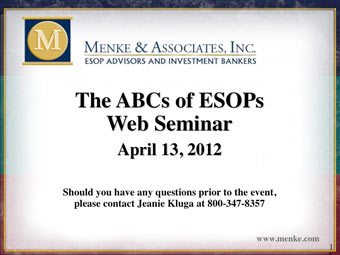 Articles by John D. Menke
Profile of An ESOP Candidate
Want to know more about the typical ESOP Candidate? Click here.
Why Should You Consider an ESOP?
Whether you want to sell some or all of your stock in the company in the next five years or whether you plan to remain active for the long term, Menke & Associates, Inc. proposes to work with you to develop a program which should help you achieve your growth potential and multiply the total value of your investment in the company.
Click here to read the rest of the article
ESOP Administration Deadlines
Click here for information regarding important Administration Deadlines
ESOP Links